Free Non-Resident UK SIPP Offer
Pensions
Clients with pension values of £40,000 or more now qualify for a free SIPP wrapper setup (usual trustee setup cost £400).
Available to Expats & Non-UK Residents Globally
Control over your investments
Honest & Independent Financial Advice
5 Star Customer Service Rating*
Transfer, Consolidate & Manage your UK Pensions Abroad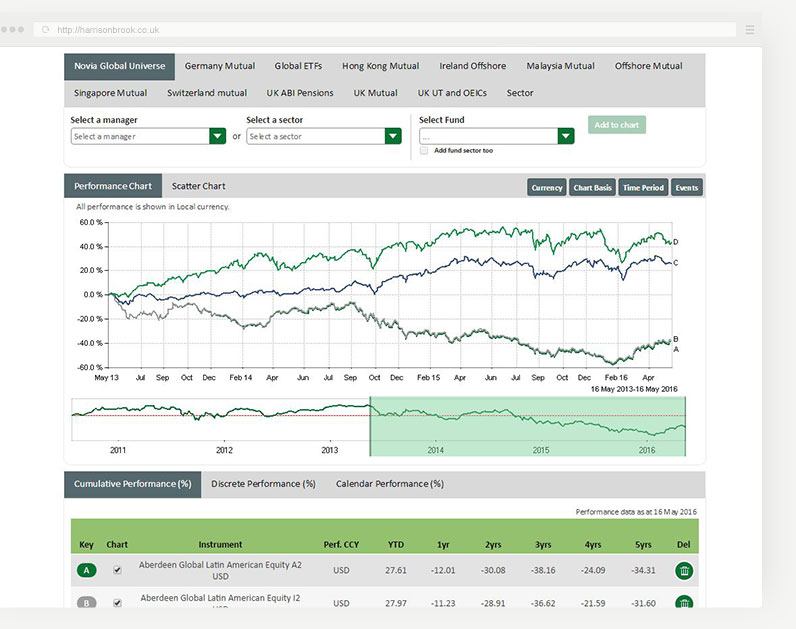 Take Control of Your Savings & Investments
Savings & Investments
Using our online savings & investments platform you have instant access to your portfolio and you can track performance in realtime.
Transparency and honest financial advice are core values at Harrison Brook. Our online savings & investment portfolio puts you, the investor, in control. There are no hidden fees and you get access to the best value international financial products and services available.
Benefits of Choosing Harrison Brook
By opening an account with Harrison Brook you can have all your investments in an easy-to-use online platform with access to the largest range and best value international financial products and services
Honest & Transparent
Initial consultations are free and without obligation and all product fees are visible - fully on a fee based model of advice.
5 Star Customer Rating
At Harrison Brook we're passionate about helping people get the most out of their money and our passion, transparency and advice is backed by a 5 star independent service rating from Feefo.
Easy to Switch
Having all your investments under one platform makes it much easier to manage and we're able to move your existing investment portfolio to your new account with Harrison Brook.
Peace of Mind
Harrison Brook is committed to transparency within charges, an area often glossed over within the industry, and principles of integrity to allow us to build successful and long-lasting relationships with our clients.
Free Consultation
Initial consultations are free and without obligation and all product fees are visible - fully on a fee based model of advice
Excellent Value
Our online advice system reduces our costs and fees allowing us to provide expats access to the largest range and best value international financial products and services.
Independent Customer Reviews
Don't just take our word for it, here's what some of our clients have to say.
My experience with Harrison Brook was good with all email queries answered quickly and efficiently.Although the pension transfer took longer that I would have liked I believe this was outside the control of Harrison Brook.Overall a very good service.
2c
Good friendly advise from Chris. Honest opinion and has been proactive in proposing changes to portfolio. He is always very responsive to questions and request for information. Very happy for Chris to continue to look after my portfolio.
I chose Harrison Brook after searching for a Financial Advisor who could help me with my specific situation. While I found many others with who I was uncertain Chris immediately gave me confidence, explaining all the options available to me, where to begin, and how I could expand on these as my life changes...
I've received some key recommendations from my Harrison Brook Financial Advisor and been able to make informed decisions regarding the breadth and type of investments I have purchased. I have also appreciated the different perspective provided - it's important to be encouraged to the think...
Professional, friendly service. Kept up to date with developments, regular consultations and evaluations of portfolio to ensure best outcome attainable.
excellent service from Ryan Frost at Harrison Brook would have no hesitation in recommending this Company.
Good service and good advice on investments to take.
Always get a rapid response to queries. Positive attitude combined with knowledgeable advice. Investments are matched to my life plans. Clear explanations and reasoning when recommending changes to investments or new investment ideas.
I have the highest regard for my financial advisor, Mr. Ryan Frost, of Harrison Brook. Ryan is talented, knowledgeable and proactive. He clearly explains his recommendations, and carefully (not to mention patiently) answers my questions. With Ryan's assistance, I am making good ground on my various...
Meet the Team
The team at Harrison Brook specialise in serving expats around the world
Get Started Today
Harrison Brook are the leading international online broker of expatriate financial services products.
Using our skill and expertise we can help and support you to make better investment decisions, while leaving you fully in control.