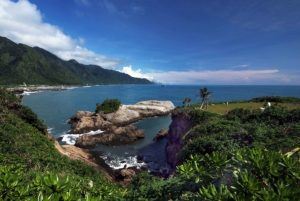 With a survey conducted with over 14,000 Taiwan Expats, working in Taiwan has now become one of the hotspots for expats. With many people retiring in Asia now, some expats are choosing Taiwan to work. Many are having to transfer pensions to a suitable SIPP following the new pension rules.  Whilst others have no pension and therefore are looking for savings plans. Harrison Brook can assist with impartial advice in all areas.
Living & Working in Taiwan
What is the lifestyle like?
There is a much more relaxed environment for Taiwan Expats. With a safe community and a beautiful land to explore, many Taiwan Expats spend time visiting and exploring the cities and land.
With major cities such as Taipei many expats favour this not just for work and but also retirement with lovely beaches and work life balance.
Taiwan's beaches are rich and varied, ranging from fine white and golden sand beaches to black sand and sparkling white coral beaches. The beaches on the main island of Taiwan are generally quite crowded during the months of May, June, July, August and September.
Some of the very best beaches in Taiwan can be found on its outlying islands, which haven't developed a strong tourist trade yet. If you're lucky, you might stumble upon a beach that is beautiful and remote.
Living?
Food may take time to adjust as many of the expats favourites are no longer on hand or cost a great deal as they must be imported. The main diet in Taiwan are noodles and meat, as this is part of the Asian culture.
Cost of living in the Taiwan is certainly cheap when compared to other expat countries. With average 30,000 TWD for a 2-bed apartment in the major cities and, 10,000 TWD for the outer areas. Effective wealth management can not only assist you now but, for the future also.
The monthly wages can vary a lot in Taiwan.  1000 TWD a month would allow for comfortable living for the average expat.  Tax on wages starts at 18% and then reduced to 5% after 183 days spent in the country. Which makes working in Taiwan attractive.
The difference of 13% can be claimed back when filing your tax returns at the end of the year. Expats looking to retire or working in Taiwan, may need to transfer their pensions and cash deposits to a suitable scheme that has double taxation in place.
Harrison Brook can assist expats in Taiwan with suitable financial advice to suit your requirements. Feel free to get in touch.