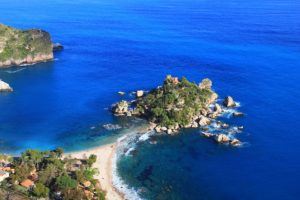 Thinking of moving to the South of Italy?
Have you ever thought of living in the South of Italy?  Enjoying the stunning beaches and sunsets all year along? Why not retire there and benefit from 10 years tax-free?
Italy is known for its rich culture, delicious cuisine and exquisite wines.  What better way to enjoy these qualities than at the beach on a sunny day? Not only does Italy provide various cultural landscapes within its city centres, you can also enjoy the fabulous coastline of the country.
While the popular cities in Italy, such as the capital Rome, Milan and Turin have high populations.  Southern Italy is a more relaxed place where you can live at ease. When you do fancy something more vibrant, you can easily travel to neighbouring cities and experience other Italian lifestyles.
Living in Sicily, Calabria or Sardinia: 10 years income tax-free
Due to the decline in population in the South of Italy, the government has decided that the best way to re-populate this stunning area will be to offer tax incentives, one of which would be 10 years without paying income tax.  The government is still discussing the implementation of this strategy but they plan it will firstly take place in Sicily, Calabria and Sardinia.
This strategy has been very successful in other countries such as Portugal, Malta, Mexico and the Canary islands amongst others.  In Italy, this strategy is known as 'Zes-Aas', where foreign pensioners are offered various inducements such as, in this case, living 10 years income tax-free in Sicily, Calabria or Sardinia.  Sicily is also currently listed as one of the 7 best places to retire in Italy.
Even if you feel you cannot let go of your home country, you would only have to reside in one of these beautiful cities for 6 months and one day a year.  You would not only be benefiting from 10 years tax-free, you will also be living in the sunshine, surrounded by sea and beaches and with low living cost in the south.  What else could you ask for?
Health Care in Italy
Most health care in Italy is free or low-cost, depending in the region you live in.  With the Italian health care ranked number 2 on the World Health Organization, you can obtain the health care insurance that suits you best.
If you need advice on sorting your healthcare in Italy, speak to an adviser.
Why Harrison Brook?
Harrison Brook specialises in providing financial advice to expatriates.  Our services are fee-based and completely transparent.  We offer assistance in a wide range of financial solutions from retirement planning, mortgages solutions to savings and investments.
All of our advisers are fully qualified with worldwide access.  Unlike UK-based financial advisers, we are able to provide our advice no matter where you live.
Even more, we offer our client's quarterly reviews to keep them updated and ensure they are satisfied with our services and performance.
If you are thinking of retiring in the South of Italy, speak to an adviser and find out the best solution to your current financial situation.