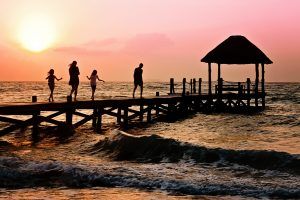 Moving abroad with your family? Here's what you need to know. 
The world is your oyster when you are young, free and single but moving aboard when you have children to consider, takes a great deal more thought and planning.
Apart from the question of uprooting them against their will and assimilating them into a new culture, parents also need to weigh up the cost and availability of education, healthcare and sufficient leisure activities in their destination country.
The Facts
According to new research, Uganda tops the chart for family-friendly places to move to.
Expat networking group InterNations questioned 3,000 expats on the quality of family life across various key measures to find the top countries for the move overseas with children.
Though, 46% of expatriates around the world have children, only 21% are actually raising their children in their destination country.
Every expat parent in Uganda gave the country a highly favourable review.  While the excellent education and healthcare systems in Israel put this country in second place in the survey results.
Also popular with families who made the move from overseas was Taiwan. Positive attitude to children, secure personal finance and good quality of life helped Taiwan to be highly rated.
In fourth place was Costa Rica, which has a culture strongly geared towards children. Then came Thailand, with its welcoming attitude to children but also its high standards of healthcare.
Looking at how well children are treated and welcomed Greece did well on all measures. However, scored lower on important factors such as education provision.
Also rated highly for expats with families were Australia, with its good work-life balance. Mexico, which welcomes migrants generally, and, Turkey, which is family-friendly but does throw up some security fears.
The families questioned in the survey judged the least child-friendly countries to be Russia, Austria and Switzerland.
Practicality
Moving aboard with a family means more financial headaches, not least as provision needs to be made for all eventualities and the costs of quality healthcare, schooling and suitable accommodation. If you are moving abroad with children, speak to a specialist expat financial adviser at Harrison Brook. We can make sure your family's financial future is secure wherever you live in the world.