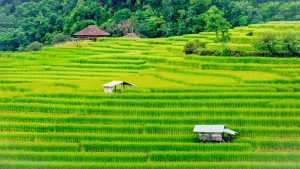 Expats in Thailand
You've spent your working life building and growing your pension pot. All those hours worked to support your family and your future should not be threatened by the insecurity of the British economy in these changing times. But what can you do?
It's time to fulfil your dreams of retiring abroad… and Thailand is the perfect place. Other than stunning beaches, beautiful landscapes and a low cost of living, Thailand is welcoming British expats with its arms wide open, so why not make the move? You'll feel reassured knowing there are around 50,000 British expats in Thailand. 
Your Golden Ticket
To help expats in Thailand the government is offering a 'Golden Visa' which has the main goal of speeding up your move to Thailand, in fact, obtaining the visa takes less than one month.
The visa will give you access to Thailand for twenty years with 'VIP' services to help you through immigration and passport formalities. As well as access to VIP lounges, airport transfers, spa treatments, golf passes and yearly health check-ups. The visa also gets you a 'Government concierge service' to help you obtain a driving license, work permits and anything else you may need to begin your life an expat in Thailand.
The 'Golden Visa' costs approximately £48,000 plus yearly payments of £481. However, if that's looking like a large chunk of your savings there are ten and five year options for £24,000 and £12,000 (approx.) respectively. Although these figures may seem high initially it's important to note that the cost of living in Thailand is reported to be 40% less than the UK's.
Finances
Of course, it's important to talk about your pension. By retirement age, your pension is your largest asset and, for many, your only source of income. So why let it be confusing? Are you aware that you can transfer and consolidate all your pensions into one pot, making things much more manageable, understandable and easy to use? By transferring with Harrison Brook you will also be aware of every cost involved, thanks to our completely transparent method of business, as well as what's happening with your money instead of receiving a random amount each week and then having to transfer it to Thai Baht (we also facilitate foreign exchange).
No matter the size of your pension pot, you've spent years building it and a great way to diminish it is solely withdrawing this capital. Alternatively, you should be growing the value of your pot and living off the gains. Here at Harrison Brook we can invest your hard earned money into the best fund houses available and strengthen your pension, rather than watch it dwindle away.
Living
So now that you've got your Visa and finances in order, what's it like to live in Thailand and which area should you call your new home?
Koh Samui has been rated as one of the best places for retired expats in Thailand. The seaside haven offers healthcare from as little as £18 as well as various social clubs and activities to make integrating a little easier. One report suggested that "even with eating out every day, you could easily live off $1,200 a month and be comfortable".
Bangkok is ideal if you're more interested in a city vibe. Thailands capital hosts huge skyscrapers, strong transport systems and a huge tourism industry. This, however, does come at a price. A private doctor will cost about double the amount for the same service as in Koh Samui and whilst you can find street food for less than £1, a more luxurious meal out could see you spending hundreds. The business hub the Thailand is more suited for city goers.
Phuket offers the country's second largest airport along with stunning beaches. So from the moment you land you can truly start living the life you deserve. With little evidence left of the 2004 tsunami, the popular destination welcomes expats with two bedroom bungalows for just £800 a month.
The Next Step
Whether you've just decided to move or are already living in Thailand get in touch with Harrison Brook today. One of our expert expat advisers will be happy to help with all your financial needs to ensure your life as an expat is stress free.