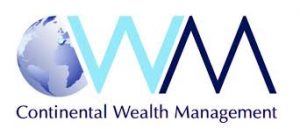 Have you just been notified of the closure of Continental Wealth Management (CWM)?
Here at Harrison Brook client requests have already begun to come in asking for help. If you are currently holding a QROPS, SIPP with Momentum Pensions, retirement scheme, investment plan, investment bond or insurance product, from the likes of Old Mutual International and you have just received the shock news of the closing of Continental Wealth Management (CWM). Harrison Brook can be here to help and take over management of your plan with no transfer costs to switch to working with Harrison Brook and shed light on your situation. It is thought that upwards of 900 clients could be affected by the closure of Continental Wealth Management (CWM).
Why transfer to Harrison Brook?
Reduced management cost – the costs associated with working Harrison Brook are likely to be much lower than they have been with Continental Wealth Management (CWM) as rather than working on a 'commission' basis, Harrison Brook operates on a low cost transparent 'fee' based model of advice
Existing Investment Funds & Structure – we can analyse and provide advice on your existing holdings to look to transition and resolve any existing problems and issues
Global reach – regulated throughout Europe and through our online advice model we are not restricted to carry on providing ongoing service if a client changes country
Quarterly online review service – we review all our client portfolio every 3 months
No initial charges on fund placements
Access to 'clean' share funds 
Access to European & UK regulated advisers 
Transition pension or investment over to a low cost investment platform 
How do I transfer my policy?
To move your policy, get started and speak  to an adviser today. The adviser will take you through the simple transfer procedure and explain your options.
Need additional support and advice?
A support group has been set up for anybody who has been affected by the closure of Continental Wealth Management with Pension Life.