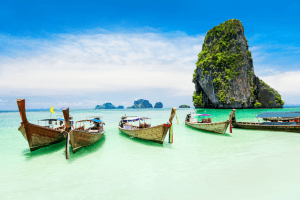 Looking for Expat Financial Advice Thailand?
Whether working or retired, your financial planning needs differ from those back home. Therefore, get the advice you need at Harrison Brook – Trusted partner for Expat Financial Advice Thailand.
Whether it is the food, the tropical beaches or the relaxed way of living, Thailand offers many expats a quality of lifestyle or retirement they could only dream of back home. Consequently, it is important for people to ensure their capital is organized and continues to provide a sustainable level of income for them throughout their retirement.
With over 500 expat clients in Bangkok, Phuket, Pattaya, Chaing Mai, Chaing Rai, Rayong, Hua Hin, Koh Samui & Koh Pha Ngan we understand the financial planning needs of expats in Thailand. Therefore, our experience helps us offer a trusted and invaluable service to our clients every year.
How can Harrison Brook Expat Financial Advice Thailand help you?
Click on each blue heading to learn more about that specific service… 
Your pensions are probably your biggest asset. However, 9 out of 10 expats have no idea how their money is invested, what level of income they will receive or what hidden fees they are paying every year to some expensive and out-dated pension manager such as Aegon, Friends Provident, Friends Life, Scottish Widows, Prudential etc etc etc.
Did you know you can actually consolidate all your UK pensions into one manageable pot? Take control of how and when you withdraw pension income as opposed to receiving a nominal amount of £27.89 each week which you somehow need to transfer to Thai Baht?
In other words, a UK pension transfer can simplify your life and grant you a superior retirement income. Harrison Brook specializes in providing expert advice on QROP & SIPP options to help clients gain access, control and full visibility of their hard-earned capital. See UK Pension Transfer – QROPS to learn more. 
Reaching retirement is an achievement and most people will have built up a 'pot' of money to fund themselves and their partner. However, if you just make withdrawals on this capital the pot will diminish very quickly. The best way to manage this is to have your capital growing each year meaning you can live off the growth rather than just depreciating your original pot value.
By working with you and managing your situation Harrison Brook can help you ensure this pot provides the level of income your desire through all of your retirement, not just the first 5 years. Also with simple withdrawals available on a weekly or monthly basis to your account in Thailand getting access to your money when you need it has never been easier.
Harrison Brook offers the perfect solutions for those who wish to be organized for their financial future. However, for every year that passes, achieving your retirement goal becomes increasingly more expensive. The key is to begin saving whatever is comfortable for you.
Our regular savings options give those employed the opportunity to build a retirement fund with geographical portability and international freedom on contributions and withdrawals. The plan will grow in a tax-efficient manner and can be brought to Thailand when you retire.
Competition for University places is increasing and tuition fees are rising as a result. Expats living in Thailand also need to consider additional costs such as international flights in between term time and the fact that their children may be classed as international students if they have been living abroad for over 5 years.
An International Education Savings Plan will ensure your children or grandchildren can pursue their desired career and fulfill their aspirations stress-free. Available in a range of currencies with a freedom to en-cash for expenses in you Education country of choice.
Whether you are transferring capital home, purchasing a property, sending money to your children or paying your bills, getting the very best rates on your international transfers will save you hundreds or thousands of pounds every year.
Harrison Brook can help you send money quickly and easily between accounts in different countries without having to queue in your bank and pay high fees and charges for the pleasure. Simply complete your payment online at Harrison Brook through Moneycorp and receive preferential rates and a regulated currency Adviser to give you the very advice on all your future transfers.
Offshore Accounts are the best way for our expats in Thailand to manage their global income and payments. In addition, the difficulties of banking in different countries are eradicated with VISA debit cards available in GBP, USD & EUR.
Convenience – Same bank no matter where you move.
Easy global access – Choice of multi-currency accounts.
Geographical freedom – Online and telephone banking 24/7.
Peace of mind – Discuss finances in English.
Reduced charges – Harrison Brook reduced charging structures and lower minimums.
No Setup and No Sign-Up Fees.
To learn more about our range of Offshore Accounts available book an Expat Financial Advice Thailand appointment available either face-to-face or by telephone.
Basically, expat Insurances protect those you care about. Whether you lose your job, become ill or have an accident. Nothing could replace you, but money provided at the right time will ensure your family will be financially secure without you. Therefore, Harrison Brook is committed to providing internationals with the best value Life Insurance.
Medical & Health Insurance.
Family Income Protection.
Life Insurance.
Why do Expats in Thailand choose Harrison Brook?
✔     

British Organisation
British levels of professionalism transported to Thailand.
European Regulation – Regulated to the highest levels globally.
UK RDR L4 Qualified – Advisers acquainted with UK & International financial planning.
✔     

Experience in Thailand
Over 500 clients currently residing in Thailand.
Tax & Double taxation agreements in place with Thailand.
✔     

Appointment Flexibility
Daytime, evening & weekend.
Client appointments by Telephone or Skype.
Face-to-face appointments when back in the UK.
✔    

 

Servicing
Direct email and phone to Adviser – No switchboards or automated services.
Quarterly Review Meetings (Face-to-face, Telephone or Skype).
Want to learn more about our Expat Financial Advice Thailand?
Follow our simple appointment planner to improve your financial planning and schedule a call from our Adviser at your convenience.