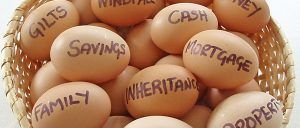 'I'll do it next year' – common misconceptions about expat financial planning
Even in a post-Brexit world, the attractions of an expat lifestyle are attractive.  We dream of warmer weather, a nicer house and a better quality of life. Achieving a comfortable expat lifestyle takes good expat financial planning, but instead of being top of the list, it's often not bothered with at all.
So why do so many people move abroad without sorting out their financial security? If you recognise yourself in the list below, now's the time to start planning for your financial future abroad.
'I'm just not interested'
You either have a six figure salary and a gold plated pension or you're an ostrich. With only 7% of us looking forward to a secure and comfortable retirement, planning ahead is something we should all be interested in.
'I don't have time'
Which is precisely why you need expat financial planning and a financial adviser. They do the hard work so you don't have to, saving you even more time – and money.
'I already have an adviser'
The financial landscape abroad is very different to the one your adviser will be used to. With a wealth of tax breaks and a huge range of financial products available, sound expat financial advice will help you make the most of the opportunities available.
The impartial advice of a professional will pay for itself in the long run.
'I've already had a bad experience, you just want to sell me your high commission product'
You're right to be cautious, but when referrals from satisfied customers are key to the growth of a business, your financial adviser has a vested interest in doing their best for you, and keeping you clearly informed on the method of remuneration that they work under – knock back 'commission' based advisers and understand the importance of 'fee' based advice
'It's too expensive and I have no money'
Putting aside money for your house purchase, investing in a pension or your family's future financial security simply makes sense and there are products to suit all pockets.
Don't leave it until next year: plan your expat financial planning and future by getting in touch with us today.