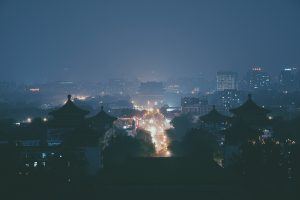 Is Japan the future for expat opportunities?
If you're looking for a professional, skilled job overseas, then Japan could be well worth considering.
According to a report made at the World Economic Forum's Annual Meeting 2017, a shocking 81% of Japanese employers reported that skills shortfalls are becoming more acute.
This has been largely attributed to the fact that rapid technological advances and the dawn of the digital workplace have outstripped and outpaced the indigenous talent pool.
Immigration
While some countries – including the USA and the UK – have been seeking ways to tighten the rules and admin required for overseas recruitment, Japan is going in the opposite direction.
The federal government in Japan has relaxed some of the requirements for highly skilled immigrants to apply for permanent residency. Creating further opportunities for expats. 
This includes making it possible for high-earning expats with multiple degrees to apply for residency after only a year of living in the country.
It is one of the measures Japan is taking to address its shortage of highly skilled workers.
So how easy is it to move to Japan to pursue your career?
Apart from your passport, you will also need a visa and a Certificate of Eligibility (COE). The latter is a document that proves you have the means to support yourself in Japan – to a minimum of about £1,250 per month.
This is acquired in one of two ways. You will be able to get a COE from a company that has offered you a job. Or, you can apply for one if you have a parent or spouse already living in Japan.
There are a number of sectors that have expressed particular willingness to recruit expat staff in Japan. Creating opportunities in education (particularly teaching English), engineering, law, medicine, journalism, and entertainment.
Once you have pinned down your job role and contract, your future employer will help you get a COE and use that to apply for a visa for you.
Before you go
No matter how bright the future looks in the land of the rising sun, anyone contemplating a new life in Japan should take robust measures to create long-term financial security. Not just for the COE either.
An expert expat financial adviser is essential.
Harrison Brook has insights and experience that can help you to build financial security, so you can enjoy your new life in this colourful, vibrant and fascinating country.
Call us today.