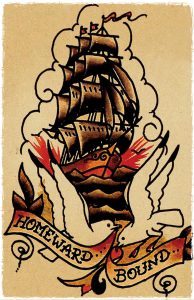 Expat Returning – The last thing on an expat's mind is the homeward bound
If life overseas is idyllic then the last thing on an expat returning mind is the prospect of being homeward bound and moving back to their home country.
But the reality is that sometimes a permanent or temporary return is necessary. For some people, it can be as much of an "adjustment" as the initial process of moving overseas.
Even those who enjoy firm citizenship in their adopted country can never say "never". Family commitments and other siren calls can change the minds of even the most entrenched expat.
Clearly, any financial advisor worth their fees would be preparing you for changing circumstances . They make sure you have a cushion to rest on if your job situation changes drastically. It would be great to think the high salaried position that took you abroad will continue.  The world economy means that complacency should not be part of any expats life.
What do you need to consider?
Well, any kind of foreign posting – no matter how long – can impact on your sense of identity and belonging.
People who have returned from longer sojourns overseas report a feeling of "homelessness" and a detachment from things, places and people that were once comforting and familiar.
The return should all be natural and instinctive, after all as this is "home" but in fact a newly acquired accent, the preferences you have for your lifestyle, and your altered understanding of the world can make your country of birth seem shockingly "alien" and disconcerting.
One of the first difficulties you may face is slotting back seamlessly into the lives of family and friends. Their perception of you has changed and they have "moved on" with their lives without you, leaving you "out of step". In the worst case scenario, it may be a difficult and lonely time.
Expat returning report that one of the best ways to settle back quickly is to actually see the experience as "starting again", avoid going back to previous jobs and be ready to make new social circles.
In fact, approach the return in the same open-minded and experimental fashion you coped with migrating overseas.
For excellent financial support in both going out and coming back from overseas life, contact us today. No matter which way you are going, we will keep your financial affairs going straight ahead.