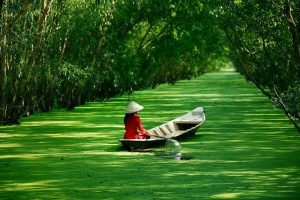 Expats Vietnam: An expat destination
Among the top emerging destinations for expat careers is Vietnam, which is working hard to attract new overseas talent.
This exotic Asian country has made rapid progress since making a commitment to major economic reforms thirty years ago, and is developing employee benefits packages for indigenous and new residents as part of a commitment to expansion and innovation.
Job and career opportunities in Vietnam
Its appeal for overseas job hunters is helped by its status as one of the fastest growing economies in the world – with an average annual GDP growth of 5.9% over the past five years (it was 0.6% in the USA).
It is working hard to incentivise new business start ups and this can be achieved with a relatively low amount of start up capital due to the low cost of living there. "Bootstrapping" is a way of life in Expats Vietnam, and the opportunities are particularly strong for new IT and exporting ventures.
Foreign companies dominate the list of the country's primary employers – a list headed by Unilever for over four years. In second place is Vietnam's own dairy company Vinamilk.
The survey of Vietnam's best places to work (by market research firm Nielson and a solutions company called Anphabe) found that there are 15 foreign companies in Vietnam's 20 best companies, including Nestle, Microsoft and IBM.
Expats Vietnam – Cost of living
Vietnam is not all work though, as it offers a high disposable income, great standard of living and an enviable work-life balance. This includes a colourful culture and a low cost property market. It is also one of the most beautiful countries in the world.
In one global expat survey, Vietnam ranked eighth out of 191 countries . When judged against the criteria of what makes people "happy" with their adopted home countries.
Vietnam could well particularly appeal to younger people looking to migrate to better jobs and a lower cost of living. It is a "young" economy in many ways; not least as 70% of the population in Ho Chi Minh City (Saigon) is under 30.
That's not to say life in Vietnam is all plain sailing for expats. You will need specialist financial planning advice, particularly if you are investing in the country (Vietnam's standard corporate income tax rate is 25%). This includes gaining vital insights into the vagaries and regulations of the local economy that could affect your move.
For advice on the financial aspects of moving abroad, contact us at Harrison Brook today.