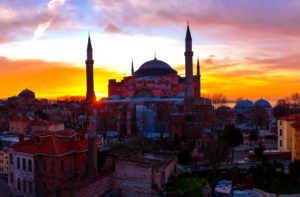 Do you like being outdoors in the fresh air and enjoying the sun?  Are you looking for somewhere sunny with low living costs? A place with a "work to live" culture rather than a "live-to-work" one? Where the locals are friendly and welcoming towards expats? A country with fresh, delicious and healthy cuisine? If you're looking for this perfect place to live, Turkey is your answer.  So, why not find a financial adviser in Turkey to help you settle down easily?
Living in Turkey
Turkey is a sunny country in the Middle East with a rich and inspiring culture.  Many expats who move there find that their lifestyle has completely changed. Either by starting new hobbies such as snorkelling or golf, travelling, experiencing exotic adventures, learning a new language or simply being in the sun on a daily basis. 
Meeting Other Expats
Before moving to the country, it is only normal to be scared about the language barrier if you do not speak Turkish. Nevertheless, the locals are known to be friendly and happy to help expats settle in. Furthermore, there are also various expat societies such as InterNations, where you can meet people in a similar situation as yourself.  Or Facebook groups to keep updated with what's going on.
Finding Local Resources: Make the most of your opportunities overseas
While moving to a new country is very exciting, you also have to be prepared to face some challenges.  Such as finding your children a good school, finding a local doctor or arranging your financial responsibilities.  For this reason, having an Expat Financial Adviser can ensure you are making the most of your opportunities overseas.  Such as finding the best cost-effective products or platforms to invest your money in, making sure you don't pay more tax than needed, transfer your UK pension to an international plan, etc.  
How will a financial adviser help you?
To completely understand the various opportunities you possess, it is best to outline all of your circumstances and future plans with a financial adviser.  By doing so, they can give you various options available to you and subsequently recommend the one in your best interest and the reasons why this option was chosen.  A financial adviser can help with various matters. For instance:
Many of these services play a very important role in your future. Indeed, your pension or investment will provide you with your future income.  Therefore, making sure these assets are continually growing is essential to reach your dream retirement.  
What makes Harrison Brook different from other advisory firms?
Harrison Brook is specialised in providing expats with honest and impartial financial advice.  Our fully-qualified advisers are English-speaking and regulated by the Gibraltar Financial Services Commission.  We provide:
Fee-based advice: All our costs are transparent and can be viewed on our website.
Worldwide access: We can provide our services no matter where you go as we are offshore advisers.  Therefore, we tend to build a strong and long term relationship with our clients.
Quarterly reviews: Our clients receive quarterly updates on their portfolio to make sure their portfolio is performing to their expectations.
Free initial consultation: You have a first-free consultation with a financial adviser to discuss your position and future plans.
Our clients are very satisfied with our services and we have a 5-star rating on Feefo.  So, why not get in touch and see what we can do for you? Join our happy army of expats!