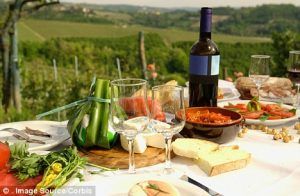 France has one of the largest British expats populations
France has one of the largest British expats populations in the world. This led to the popular and picturesque region of Dordogne in southwestern France getting the nickname "Dordogneshire". 
But is it still the idyllic retirement and work destination it once was? We would have to say a very loud Oui.
Not just for retirement
Migration from the UK to France began to rise rapidly from the 1990s. According to the latest statistics from Britain's Institute of Public Policy Research, there are around 250,000 British born people living in France. However, although the country has a reputation for being a favoured retirement spot, the statistics show that only 22.5% of the Brits living in France are pensioners.
Life expectancy up
After saying that, it is a great place to grow old. A recent study confirmed that life expectancy in France leads the global league table, and is increasing every year. The average life expectancy age for women in France is fast approaching 90.
But will your quality of life make those extra years worth having? And enough of an income from your pension transfer to live well?
Quality of life
Well with sufficient regular income, you certainly can enjoy your time there. The country regularly comes out shining in surveys regarding lifestyle. In 2016, an HSBC survey ranked France 4th out of 45 for quality of life. The USA was in 26th position and the UK a dismal 30th.
France is known for its affordable, good quality healthcare . You can buy a lot more property space for your money there than other popular world destinations.
One of the advantages for many expats is that France is so easily accessible – just a Eurostar journey away from relatives back in Blighty. France also forms a gateway to exploring the rest of Europe.
The climate is good, especially in the South, and France has superb beaches and countryside, many unspoilt villages and still values community living. An active social life – well into their senior years – is one of the things the French enjoy most, along with that globally-famous, amazing food and wine.
Top spots and financial support
Though the Dordogne is still a magnet for British expats, according to data from the INSEE earlier this year, the biggest concentration is in and around Paris. Other popular destinations for British expats to settle are Charente, Haute-Vienne and Côte d'Armor.
As for the financial stability to make the best of your gallic odyssey? Well that depends on you speaking to a financial advisor with specialist knowledge of expat finances, and the regulations and vagaries of France. It makes sense to contact us – Non?
This can all be made easier via Harrison Brook, advisers to expats.