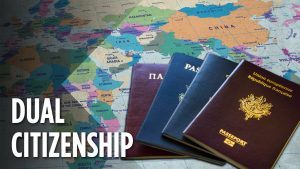 Dual citizenship from other EU countries
Some pundits blame a lack of faith in Britain's future for the steep rise in people applying for dual citizenship from other EU countries.
Passport officials in Ireland report that in one month, the number of UK-based applications for citizenship has reached the level they would normally expect over a whole year.
Other European countries – particularly Sweden, Germany, Portugal and Denmark – are also recording a significant upturn in British enquiries about dual citizenship and applications for passports. One of the best illustrations of the scale of this issue is that Germany's substantial increase in applications for dual citizenship includes a reported 1,000 Jewish people living in Britain – a massive 40 times more "refugee" applications than during the year preceding the Brexit vote.
Brits seeking EU passports
So why are so many Brits reclaiming their heritage and seeking EU passports? Does it herald a wave of migration from Britain to other European countries when the Brexit separation comes?
For some, it appears to be a way of "hedging their bets" and creating a way of travelling freely, including migrating to EU countries more easily if need be.
Those who have already found their way into careers such as finance, insurance and creative media in such places as Paris, Berlin, Brussels or Frankfurt want to protect their ability to move freely around the EU jobs market.
Citizens of the world
Having dual citizenship in Britain and an EU country is also an indication that many see themselves as "citizens of the world".
Not everyone is lucky enough to be able to claim Irish heritage or refugee status though. Which means that when Britain leaves the EU, thousands of British expats in Europe will find it harder to enjoy equal treatment with nationals of their adopted countries.
So it appears the trend towards uncovering European heritage and sending off applications to foreign embassies is set to continue to rise as Britain's exit gets closer. Those considering making a move, or who are thinking of planting even firmer roots overseas,should seriously think about another form of "insurance" for post-Brexit living – good expat financial advice. Getting insights on overseas money management is another step towards security.
Call us at Harrison Brook today for details.