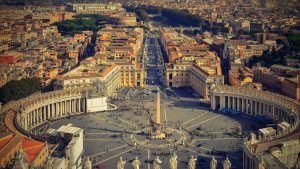 With the UK facing Brexit and it's economic consequences now is the perfect time to think about moving abroad. You've spent your life working up to a position in which you can live comfortably. Why should that be sacrificed due to England's economy? Moving to Italy to work or to retire could be exactly what you need.
In terms of a strong economy, Italy may not be what springs to mind. But with falling unemployment, industrial output increasing by over 4% a year and a growing GDP your decision to move to the land of culture, quality cuisine and good weather is a smart move after all.
Working in Italy
Italians place a huge importance on their work-life balance. Ensuring plenty of time is enjoyed living as well as working. For this reason, during the Italy summer holidays (usually in August) most big industries shut down. Meaning more time to enjoy the great coasts, vineyards and history Italy has to offer. Being a largely religious country means that Italy also benefits from various Saints Days throughout the year, however, some of these can be regional. For example, those in Rome enjoy St Peter's Day (June 29) alone, whilst citizens of Palermo can relax on July 15th for St Rosalia's Day.
Tourism is Italy's largest sector (i'm sure I don't need to explain why) attracting professionals from intern level up to top-level managers to migrate to the European country. Closely followed by Manufacturing which hosts world famous brands such as Fiat and draws in engineers from across the globe. The average wage in Italy is €1758 a month, and as such, investing disposable income is important for the future.
Retiring in Italy
Italy boasts stunning landscapes, culture, food and history. Who wouldn't love to enjoy retirement strolling the canals of Venice or sipping a glass of local 'vino rosso' (red wine) in Florence?
Italy doesn't have a retiree program so having access to the pension you've built elsewhere is vital. Fortunately, you have various options. A SIPP or QROPS will be suitable for you and allow you to transfer, consolidate and access your pension(s) wherever you decide to settle down. Whilst, Italy doesn't offer a retiree program it does benefit from low cost living and the second best Healthcare system according to the World Health Organisation (just losing out to France), an important factor when retiring.
What Next?
If you think moving to Italy is the next move for you, get in touch! Harrison Brook are happy to help with all expat financial needs. From transferring pensions to regular savings, we even offer offshore current accounts.