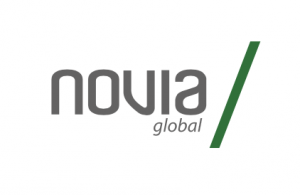 Staying ahead of the game is paramount…
Here at Harrison Brook, we strive for advancement, efficiency and transparency. Our track record tells us that this is the best method for achieving top results for our clients. With this, we employ various innovative technologies such as the Novia Global investment platform.
Novia Global is an international wealth management platform. The online investment platform is a simple, easy and innovative wealth management tool which allows for clients, through their professional financial adviser, to have complete control over their investments.
This control means that clients can feel secure, whilst informed, over their assets. Making investments in various currencies and markets and deciding whether to select their own investments or to choose from a large selection of market leading Discretionary Fund Managers.
Keeping things clear, simple and transparent whilst allowing for flexibility and choice is essential at Harrison Brook.
The Finer print.
The innovative online investment platform allows for the client to buy, sell and switch investments with no switching charge. Meaning complete control and savings. As a result, up-to-date evaluations have never been easier – investments are made online so you'll see a clear, easy to understand snapshot of your investments – how they're doing and their value. Viewing the entire history of transactions also means full transparency, particularly when it comes to fees.
Taxation may depend on your local legislation however with various offshore products available, you and your adviser can work to find the best combination to achieve tax efficiency. As you'll know, tax efficiency can make a massive difference to your financial circumstances in years to come.
The online investment platform gives access to markets all around the world, meaning you can invest and hold money in multiple currencies. These currencies include Euro, American Dollars, Australian Dollars, Sterling, Swiss Francs and Hong Kong Dollars.
Moreover, withdrawals can be made at any time (minimum amount $1000, or currency equivalent) allowing full control. Assets will be sold where appropriate to cover the amount if there is insufficient balance in the cash account on your platform. There is no maximum investment, allowing you to reach your full financial potential.
The online platform works with financial advisers so that your assets are left in expert hands. Between you and your adviser, you have full control, as well as constant advice and quick reactions to market changes.
How we work for you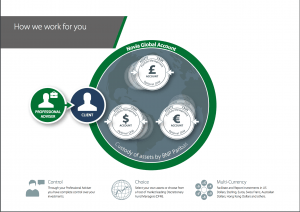 (Taken from Novia Global Investment Platform brochure)
If you're interested in improving your financial future, get in contact with an adviser today.
Open the useful documents below for more information.
Novia Global Investment Platform Brochure