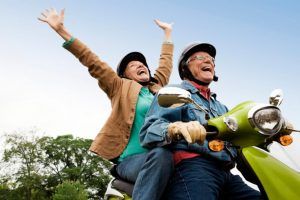 Check out our top three considerations for expat retirees:
For many of us, jetting off to warmer climes on our retirement is the ultimate dream; and it's one that's very achievable for many of us. With property less expensive in many parts of Europe and cheap flights abounding, a retirement in the sun could be more than a pipe dream.
1. Choose a destination with good transport links
For many people, the ability to easily make the trip back to their home country is of critical importance when choosing where to live in their retirement. Excellent train links between London and much of Western Europe make travelling back and forth a doddle, while budget airlines offer cheap flights to many popular destinations on the continent.
It's worth checking out the various travel options before you decide to settle down somewhere.  Consider proximity to the airport, local public transport links and the cost of getting back to see your loved ones.
2. Take an extended trip
Before you buy a house or commit to your move, it's worth taking an extended trip to the place you're planning to live – or even several! It's a good idea to get a real feel for what day-to-day life will be like, and to experience your destination at different times of year if possible. You might find it's too hot, too cold or too isolated, which you may not notice or mind whilst on a holiday.
3. Expert expat financial advice
Because retiring abroad is slightly more complex financially than doing so in the UK, it's worth engaging some expert expat financial advice. Someone with experience in matters such as UK pension transfers will be able to help you to structure finances including mortgages, insurance and pensions to allow for effective retirement planning.
By speaking to someone qualified you can ensure that you have enough saved to live the lifestyle you'd like to in your dream destination.
Here at Harrison Brook, we offer the services of an expert financial adviser who can help you through the maze that is retiring abroad. Get in touch today to find out more.