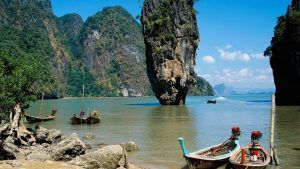 Thailand British Expats
Since the announcement of Brexit, hundreds of British expats have sought a clear understanding of how this will affect them. Crucially whether or not they can continue their lifestyles. Similarly, those looking to join the Thailand British expats community are cautious of making the jump over fear for their long-term security.
The hero we were waiting for?
Thailand has decided to lend a helping hand to those looking to make the decision to join the expat community. British expats, however, are wary of making a long-term decision. The deal they are offering is a Golden Visa, which is designed to dramatically speed up the decision and ability to move. On top of this, Thailand offers a whole host of benefits, both financial and service-based.
What's on offer?
All Thailand British expats taking this offer on receives a 20-year visa in Bangkok. Thailand grants VIP access to work permits and helps with any issues such as getting a driving license. Thailand is offering help for the seemingly complex formalities of applying for and successfully gaining their immigration rights as well. All expats will be entitled to annual health checks, spa and leisure pass, golf passes and even airport transfers. The largest pull will be the chance to live in a truly stunning country. As well as making full use of visiting their gorgeous jungles and lounge on the golden beaches.
How much is it going to cost?
This offer seems best suited to those looking to formally retire out there and sell up back home. As such, this is due to the seemingly large costs to get the visa. It requires one payment of £48,138 and ongoing yearly payments of £481. This number seems very large compared to a pass elsewhere such as Spain. This suggests that the Thai government is trying to attract mostly wealthy retirees committed to living out a large later part of their lives abroad. However, one significant saving that you would experience once out there is that the cost of living in Thailand is around 40% less than in the UK. Furthermore, if you aren't so keen on the idea of a 20-year visa, then you could opt for a 10-year or 5-year visa which cost £24,066 and £12,033 respectively.
If you would require more information regarding this, or need any expat financial advice, contact us at Harrison Brook today.