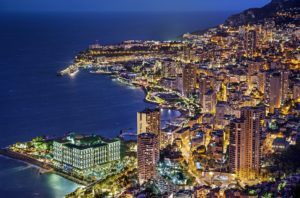 Are you looking for a UK Financial Adviser in Monaco? The principality of Monaco has long been a tax haven for the wealthy due to the lax tax laws. With no income tax being levied for residents and no capital gains tax applicable there are a number of significant advantages for becoming resident.  With an array of Private Banks, all offering bespoke Portfolio Management Solutions many would consider Monaco to be a crowded market for Financial Advice. The key when considering this position, however, is what type of financial advice are you receiving? What services do you require?
Commission Based Advice Versus Fee-Based Advice in Monaco
The vast majority of financial advisers in Monaco are commission-based. Commission Based financial advisers take a sum of money at the commencement of your investment. This essentially means that they are paid for opening your account. They are not then further compensated for safeguarding your investments, growing your portfolio or ensuring returns.  Commissioned charging structures are notoriously opaque, making it difficult for the investor to know how much they are really paying.
Fee-Based advice, on the other hand, sees the adviser being paid a flat fee or percentage of the funds to open an account. Then an ongoing fee for servicing and maintaining your
investment. This means that as the funds under management grow, the adviser is further rewarded. It also means that they will work to keep you, the investor, as happy as possible – so you don't leave the investment. This, in turn, produces objective and truthful advice from your adviser, because your targets are aligned.
Tied Financial Advice Versus Independent Financial Advice
Tied Financial Advisers are the opposite of Independent Financial Advisers. This means they are only able to "sell" their own limited fund or product range. This does not mean they are not experts or add value in their advice however they can only provide advice regarding their employer's products and services. Tied financial advisers tend to make their money with a base salary and usually earn additional commission on the funds and solutions they recommend.
Independent Financial Advisers are not tied to any one product or provider. They will advise on all available solutions in the market place for their clients and recommend accordingly based on those client needs. Should a new product become available at a later date that better suit their client's requirements so can transition across as with any portfolio allocation.
 UK Pension Transfer and Ongoing Management
A number of Monegasque residents still hold UK pensions, whether they be personal or old company schemes. Often an afterthought for the member these pensions are left to achieve very little growth due to the limited fund ranges they are invested in and high ongoing costs. Worse still, they may be stuck in schemes that do not allow access as a non – UK resident and are open to large currency risk of being invested in Sterling whilst the member lives and spends in Euros. Unfortunately, none of the Financial Advisors in Monaco will be able to advise on any UK pension scheme due to licensing restrictions.
UK Financial Adviser Monaco – Harrison Brook Online?
Harrison Brook is the French Riviera's leading broker of expatriate financial service products and expat financial advice.
Harrison Brook is France's leading broker of expatriate financial services products and expat financial advice. As your local partner in France, we provide the French and Monaco expat community with the best expert advice on portfolio management via Offshore Investment Platforms, UK pension transfers and Management, insurance and non – French resident mortgages. We utilise international investments solutions to best meet our client's requirements and solely work on a transparent "fee-based" model rather than commission. European regulation allows us to offer cross border advice regarding residency and solutions. Get in touch today.