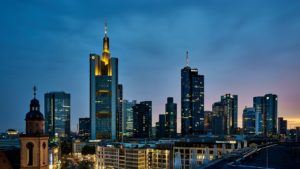 Brexit Frankfurt
With a little less than a year to go before the UK formally leaves the EU, it is still very difficult to predict with any certainty, what Brexit will look like and who the eventual winners & losers may be.
There are, however, some areas that in recent months have become a little clearer. One such area is financial services and the current 'Passporting' arrangement, which allows a firm based in one EU country to do business in another. Both sides have effectively ruled out a "single rule book" for financial services between the European Union and the UK after Brexit creating significant uncertainty in London.
With more than 5,000 UK based firms currently using passporting to do business in Europe, alternative arrangements will need to be made to continue doing business post-Brexit.
Why Frankfurt?
Frankfurt is the largest financial centre in continental Europe. The German financial capital is seen as the leading contender for relocation by banks, insurers and asset managers in London who will need an EU base after Brexit. It is home to the European Central Bank and therefore many commercial banks have been applying for licenses in Frankfurt, the home of their supervisor and the euro zone's single most powerful institution making post Brexit Frankfurt a hub for banking.
In the race to lure jobs from the City of London financial district ahead of Brexit, Frankfurt could see between 3,000 & 5,000 jobs created over the next two years according to the Association of Foreign Banks. Several major Financial Institutions have already selected Frankfurt as their EU headquarters to ensure access to the Single Market. Among those are; Citigroup, Morgan Stanley, Nomura Holdings and Standard Chartered. UBS and Goldman Sachs are believed to be considering a similar move.
Frankfurt is Germany's most International and ethnically diverse city and more than just Germany's financial hub. With a population of approximately 730,000, more than a quarter of the population are foreign nationals, including many expatriates and that is likely to grow. Estimates vary, but The Bank of England has said it is plausible that 10,000 financial jobs could move from Britain to the EU by Brexit Day. This number could change, however, should a 'softer' Brexit avenue be pursued resulting in a trickle rather than a wave of London bankers heading to Europe.
Whatever the final outcome, post Brexit Frankfurt could emerge as one of the major winners, along with Paris and Luxembourg, which we will cover in future articles.
What should you do?
If you are an expat, or soon to become an expat in Frankfurt and need help and advice in any of the following areas; transferring your pension, saving & investing or planning for retirement, portfolio management, currency exchange or mortgage advice, Harrison Brook are here to help.
For a free consultation don't hesitate to get in touch today! One of our expert advisers will be happy to help.