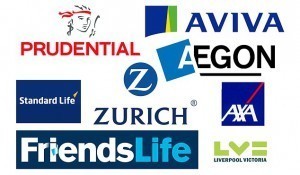 Will your QROP or UK pension provide you full access to your money come April, 2015?
With pension reforms coming into force in April 2015 in the United Kingdom, there has never been a better time to take advantage of the sweeping flexibilities certain pension schemes are designed to offer.
QROPS Transfer Out (Pension Held within a Qualified Recognised Overseas Pension Scheme):
If you have your pension provision held and managed within a QROP, depending on the jurisdiction that your pension is administrated will determine how you can take your benefit provision.
Currently, only three jurisdictions provide or will provide from April, 2015 no restrictions on benefit. These consist of Malta, New Zealand and Guernsey.
Schemes which are registered as QROPS will not be restricted by Malta, New Zealand and Guernsey regulations in terms of benefit provision and will be able to provide benefits in line with HMRC regulations. Consequently full flexibility will be allowed from these jurisdictions when the new UK regulations are effective.
This will allow these schemes to utilise HMRC's proposal to allow up to 100% lump sum withdrawals out of QROPS from April this year.
If you have a QROP held within the Isle of Man or another jurisdiction not listed above (which are restricted from April, 2015), speak to a Harrison Brook adviser today to understand how you can switch your pension to a fully flexible QROP scheme or if you have returned to the UK to a fully flexible UK based 'Self Invested Personal Pension' (SIPP).
UK Pension Transfer Out (Pension Held within a  UK personal, stakeholder, company scheme etc.)
If your pension is still held within a UK based pension scheme, not all the main providers will allow full flexibility. The table below shows who will offer the most flexible options when the pension reforms are introduced in April for UK schemes: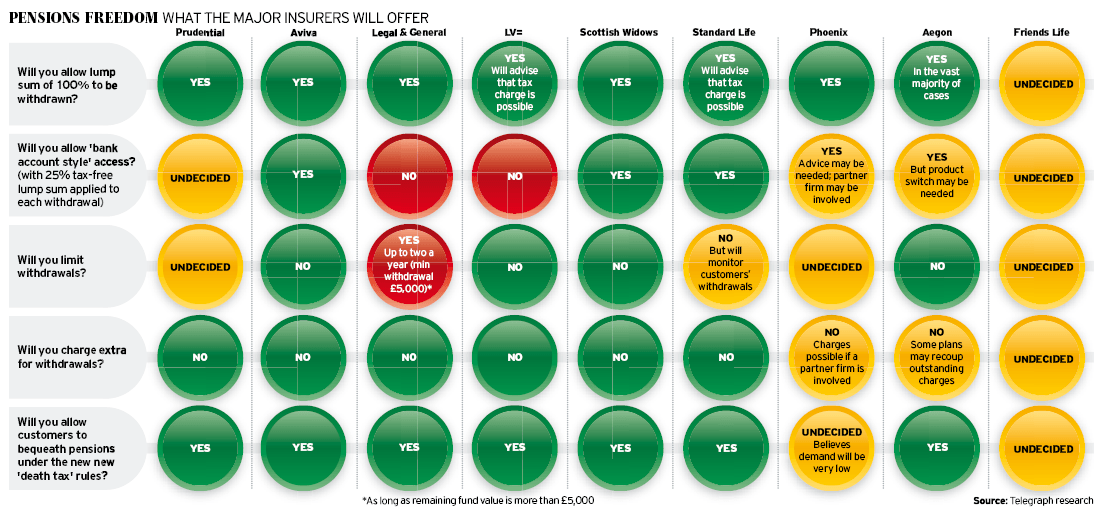 Although the five firms mentioned have said they will offer unrestricted access, two others, Legal & General and LV=, said they would not offer "bank account style" access to pensions. L&G said customers would be able to take two partial lump sums a year at a minimum of £5,000, as long as the remaining fund value is above £5,000.
All the firms, except Phoenix and Aegon, said they would not charge extra for "bank account" style withdrawals, although standard charges for an "income drawdown" plan will apply.
Most firms are continuing to offer the options that were available before last year's announcement, such as annuities. But with poor annuities rates, and existing UK scheme providers offering limited information on the services available from April, 2015. A pension transfer (depending on your residency situation) to a fully flexible QROP or SIPP solution would be prudent to ensure you have full access and control of your benefit provision come April, 2015.
Harrison Brook is your perfect partner to understand what is best for your current situation:
In order to meet demand for the pension reforms, Harrison Brook is introducing the QROP and UK pension scheme transfer out / switch back scheme for the next three months (up to the end of May 2015).
Harrison Brook Key Service Features:
Zero

set up fee for the transfer

Zero

 administration charges or fees in the first twelve months
Your existing investment platform/bond and fund holdings can be

transferred "in-specie"

, avoiding any exit penalties and selling any investment funds
Free transfers in the future to other QROP or SIPP schemes
In most cases, the new scheme will offer reduced ongoing administration fees compared to your existing scheme provider
Harrison Brook is one of very few financial advisory firms which can cater for QROP to QROP, QROP to SIPP and SIPP to QROP transfers, with regulated cross border advice. Simply 'Get Started', speak to an adviser today for free, no obligation, financial analysis and information tailored for your situation.